Renee Shelby
Affiliated Faculty, SPAN Postdoctoral Fellow (2020-22)
PhD in History and Sociology of Science and Technology, Georgia Institute of Technology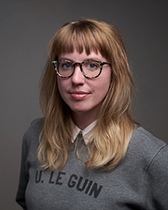 Renee Shelby (Ph.D. History and Sociology of Science and Technology, Georgia Institute of Technology), is jointly appointed in the Sociology Department and Legal Studies Program. She has research and teaching interests in feminist science studies, law and inequality, and sociology of the body. 
Her current project, "Designing Justice: Sexual Violence, Technology, and Citizen-Activism" examines how gender violence activists and state actors negotiate issues of sexual consent and mediate the experience of sexual violence through technological activism. "Designing Justice" advances understandings of the anti-sexual violence movement by shifting focus off protest-based action to the epistemic dimensions and organizational forms of counter public knowledge. 
Renee's work appears in Feminist Media Studies, Theoretical Criminology, and Engaging Science and Technology Studies among others.
Courses at Northwestern
Winter 2021: Sexuality, Technoscience, and the Law (GNDR_ST 3xx | Co-listed as 

LEGAL_ST 376 & SOCIOL 376)

Spring 2021: Gender-Based Violence (GNDR_ST 332 | Co-listed as 

LEGAL_ST 376 & SOCIOL 376)
Selected Publications
—"Value-Responsible Design and Sexual Violence Interventions: Engaging Values in the Criminological Imagination." In K. Henne & R. Shah (Eds.) The Handbook on Public Criminologies (2020): 286-298.
—"Techno-Physical Feminism: Anti-Rape Technology, Gender, and Corporeal Surveillance," Feminist Media Studies (2019). https://www.tandfonline.com/doi/full/10.1080/14680777.2019.1662823?scroll=top&needAccess=true 
—"'I Incite This Meeting to Rebellion:' Sexual Violence, Law Enforcement, and the Radical Feminism of the 1909 Board Game Suffragetto," ROMChip: Journal of Game Histories (2019). https://romchip.org/index.php/romchip-journal/article/view/46 
—"Whose Rape Kit? Stabilizing the Vitullo Kit Through Positivist Criminology and Protocol Feminism," Theoretical Criminology (2018). https://journals.sagepub.com/doi/abs/10.1177/1362480618819805 
Back to top