Kyle Kaplan
PhD in Musicology (2020) | GSS Cluster Fellow & TA 2018-19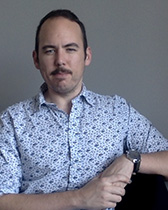 Kyle Kaplan completed his PhD in Musicology and was a Mellon Interdisciplinary Cluster Fellow with the Gender and Sexuality Studies program. His dissertation, "Music, Intimacy, and International Homosexual Collaborations, 1957-1963," reconstructs the social and creative networks of composers such as Hans Werner Henze and Samuel Barber in counterpoint with Adorno's contemporaneous writings on aesthetics, ethics, and intimacy. His research on the soundtracks of experimental gay erotic cinema will appear in the forthcoming special issue of Women and Music on "Race-ing Queer Music Scholarship." He holds degrees from UCLA and McGill and has served on the board of the LGBTQ Study Group for the American Musicological Society.
Courses taught include:
"Queer and Feminist Archives"
"Transnational Feminism & the Diva"