Laura Brueck
Affiliated Faculty, Chair, Asian Languages and Cultures Department; Director of Undergraduate Studies; Associate Professor of Indian Literature
Ph.D. Asian Cultures and Languages, University of Texas, Austin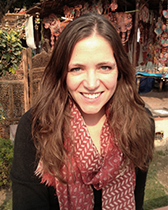 847-467-4746
1880 Campus Drive, Kresge Hall, Office 4-427
Laura Brueck received her Ph.D. in Asian Cultures and Languages from the University of Texas at Austin in 2006. Her research interests are in modern and contemporary Hindi literature, with a particular focus on literatures of resistance and of the oppressed.
Her work for the last decade has focused on Hindi Dalit literature, or resistance writing by those formerly known as "untouchables." Her book, Writing Resistance: The Rhetorical Imagination of Contemporary Dalit Literature has just been published by Columbia University Press as part of the new series South Asia Across the Disciplines (SAAD). A collection of her translations of Hindi short stories, titled Unclaimed Terrain: Stories by Ajay Navaria, was published in 2012 by Navayana Press in Delhi, India. Recently, her interests have turned towards Indian "pulp" fiction, particularly the genre of detective fiction and crime narratives. She is especially interested in the ways that the socio-political discourse of crime and criminality are reflected in twentieth century Hindi, Urdu, and English detective novels.
Brueck arrived at Northwestern University in 2013 to help build the new Department of Asian Languages and Cultures. Her areas of specialization in teaching include modern Hindi/Urdu language and literature, South Asian literature in English and in translation, Bollywood cinema, Indian epic literature, and South Asian civilization, with a particular focus on the modern politics of caste, class, and gender.
Courses Taught
Indo-Pakistani Women Writers
Feminist Theory & Media in South Asia