Ji-Yeon Yuh
Affiliated Faculty, Associate Professor of History and Asian American Studies
Ph.D. History, University of Pennsylvania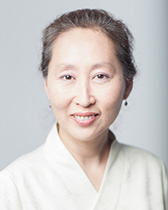 847-467-6538
Harris Hall #306
Ji-Yeon Yuh (University of Pennsylvania, 1999) specializes in Asian American history and Asian diasporas. She is the author of Beyond the Shadow of Camptown: Korean Military Brides in America (New York University Press, 2002), forthcoming in 2004 in Korean translation. A history of Korean women who immigrated to the United States as the wives of U.S. soldiers, this work examines the dynamics of race, culture, gender and nationalism from the perspective of Korean military brides. With a fellowship from the Social Science Research Council, she recently spent a year in China and Japan researching ethnic Korean communities for a comparative study of the Korean diaspora in China, Japan and the United States. This study examines policies toward minority ethnic groups and their impact on the development of community and identity, as well as the ways in which experiences of Koreans in the diaspora are connected and divided by the history of the Korean peninsula in the twentieth century. As such, the study examines issues of imperialism, gender, history and memory, race and racialization, and the uses and misuses of ideology. She has also done research on refugees from North Korea, on socialist Koreans in China and Japan in the immediate post-WWII period, and on the Korean reunification movement in the United States. She has presented her research at Ritsumeikan University in Kyoto, Yanbian University in China, the National Museum of Ethnology in Osaka, the National University of Singapore, Southampton University in England, and at various conferences both international and U.S.-based. Her writings on Korea issues and on U.S. issues have appeared in the Dong-A Ilbo (Seoul), the Hankyoreh Daily (Seoul), Sisa Journal (Seoul), the Yomiuri Shinbun (Tokyo), Newsday (New York), the Chicago Tribune, the Miami Herald, and other newspapers and magazines. She is a co-founder of the Alliance of Scholars Concerned about Korea, an organization advocating peace on the Korean peninsula as it educates policy makers and the public, and serves as their Media Liaison and National Spokesperson.
Courses Taught
"Comparative Race and Gender"


"Asian American Women's History"
Back to top