Héctor Carrillo
Professor of Sociology and Gender & Sexuality Studies
PhD, University of California, Berkeley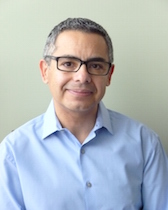 847.467.0516
1808 Chicago Ave, Room 101
Héctor Carrillo is Professor of Sociology and Gender & Sexuality Studies. He also serves as co-director of the Sexualities Project at Northwestern (SPAN), which promotes interdisciplinary research and education on sexuality and health in social context.
He is the author of two books: The Night Is Young: Sexuality in Mexico in the Time of AIDS (University of Chicago Press, 2002), and Pathways of Desire: The Sexual Migration of Mexican Gay Men (University of Chicago Press, 2017). For The Night Is Young, he received the Ruth Benedict Prize by the Society of Lesbian and Gay Anthropologists of the American Anthropological Association. For Pathways of Desire, he has received best book awards from three sections of the American Sociological Association (ASA)—Sex and Gender, International Migration, and Latina/o Sociology—and the 2020 ASA Distinguished Scholarly Book award.
Prof. Carrillo's current research investigates the interactions of amateur genealogists with the records and documents that constitute the raw material of their genealogical projects. Among other issues, this research examines various aspects of gender and sexuality in genealogical research. Prof. Carrillo has also recently completed a study of the sexualities of straight-identified men who are sexually interested in both women and men.
Carrillo serves as a member of the editorial boards of Sexuality Research and Social Policy, and Sexualidad, Salud y Sociedad: Revista Latinoamericana, and is a Senior Editor of Theory and Society. He is a past chair of the Sociology of Sexualities Section of the American Sociological Association, and he served as co-chair of the Social, Behavioral, and Economic Science track of the XVII International AIDS Conference. He is an elected member of the Sociological Research Association. He also has a history of involvement in HIV/AIDS community based organizations.
Selected Publications
Courses Taught
Undergraduate
"Sexuality & Society"
"Heterosexualities: Past, Present, and Future"
"Sexuality and Public Policy"
Graduate
"Sociology of Sexuality"
"Sociology of Immigration"
Books