Tessie Liu
Director of Undergraduate Studies | Associate Professor of History and Gender & Sexuality Studies
Ph.D., University of Michigan, 1987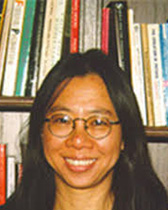 847-491-3150
Harris Hall 327
Tessie Liu is Associate Professor of History and Gender & Sexuality Studies. She served as Director of the Gender Studies Program between 2002 and 2004. A social and cultural historian by training, Liu teaches courses on gender and transnationalism, race and sexuality, as well as courses in comparative women's and gender history. She is currently completing a monograph entitled "The Failure of Enlightenment, Not of Darkness": Race, Freedom and Citizenship Between the French and Haitian Revolutions (anticipated for 2006). Her other publications include The Weaver's Knot: The Contradictions of Family Solidarity and Class Conflict in Western France (1750 to 1914), several edited volumes: Gendered Colonialisms in African History (with Nancy R. Hunt and Jean H. Quataert), two special issue of Feminist Studies on "Second Wave Feminism in the United States" (with Nancy Hewitt) and "Women in the South Asian Diaspora (with Judith Gardiner), and other articles. Liu also served as the conference director for the second Edith Kreeger Wolf Conference held in April 2003, "The Ends of Sexuality: Pleasure and Danger in the New Millennium." Prof. Liu teaches undergraduate courses on "Gender, Race & The Politics of Beauty," and "Gender & War."
Courses Taught
"Gender, Race & The Politics of Beauty"

"Mapping Sexualties of 19th Century Paris"
"Historical Methods of Gender and Sexuality Studies"

"Gender, War, & Revolution"

"Feminist Theory: Passionate Politics"
Back to top